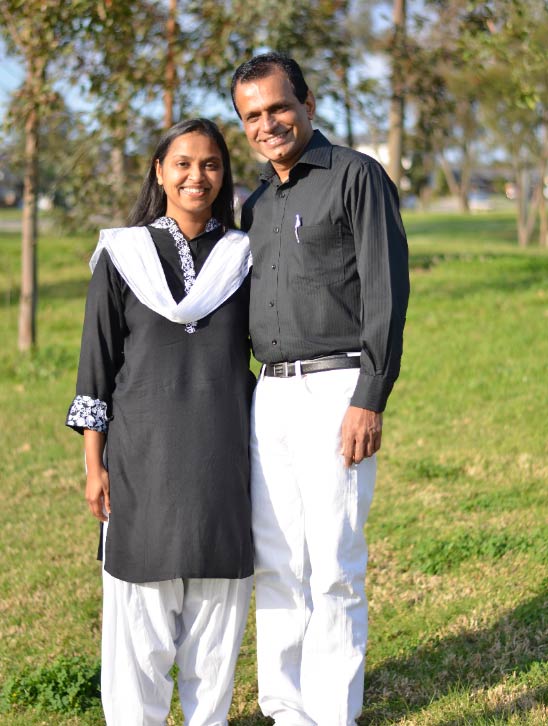 Greetings from Pastors Sainu and Shincy!
We are glad you have chosen to spend a few moments browsing our website and are discovering a little about our church family! We are privileged to be able to share a little about our church with you. You will find us to be a warm, loving and caring fellowship with growing families. At LSC, you will find lots of people just like yourself. Our congregation is made up of people from various backgrounds and walks of life. Together, we are discovering the powerful difference that a relationship with Jesus can make as we meet head-on the challenges and joys of daily living. You will discover that LSC will offer you a safe place to grow in your spiritual journey, to find support in raising your family and offers a genuinely caring community. LSC is driven by the vision that the Lord has instilled in our hearts about the Great Harvest commissioned by the Lord Jesus which has become our primary motive. To make this vision, come true we are not only looking forward to a harvest in the nation that the Lord has planted us, but also yearning and working towards a global harvest through our ministry. With this vision in mind, we are moving forward with the intention of Impacting Nations not only here at home but also across the globe.
We are grateful to the Lord for all He has done in, through and for us these past years. We are hopeful that we as a church will continue to grow in the knowledge, grace and truth of Him more in the days ahead. We truly believe that God has even more in store for our church and His people. It is our sincere prayer that we would abide in His word and continue to bring forth much fruit.
We humbly invite you to come and have a taste of what God is doing in our lives! We are confident that you will feel loved and welcomed at LSC. While you are browsing our website, you will learn about our programs and get a glimpse of who we are. To fully understand us, come to a worship service or to a connect group and feel the up-close, in-person fellowship that comes when people share time together in God's presence. We'd love to meet you and know you. We trust that you will be exceedingly blessed.
In His Service,
Sainu & Shincy